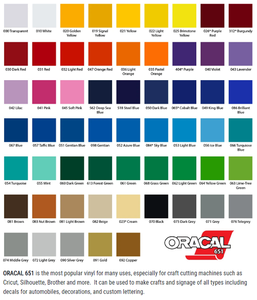 Oracal 651 Adhesive Vinyl - 24" x 1 foot (Continuous)
Oracal 651 Adhesive Sign Vinyl

 

- High gloss (matte: black & white only), intermediate-performance PVC film manufactured using a proprietary formulation that ensures optimized stability and resistance to UV degradation.
Compatibility

 

- Suitable for all craft/hobby/professional vinyl cutting machines. For medium to long term applications including decals, vehicle graphics. Can be applied to any smooth surface such as: painted wood, glass, tumblers, ceramic, metal, signs, banners, hard plastic, fiberglass, etc.
Release Paper

 

- 84# custom silicone-coated paper with special release characteristics that provide excellent weeding and release values. Customized blue silicone paper liner for matte white and gloss white provides superior contrast for cutting and weeding.
Adhesive

 

- Solvent polyacrylate, permanent.
Application

 

- Due to its special release characteristics, this product is ideal for use on computer-aided sign-making (CAS) equipment. Its special proprietary formulation ensures optimized stability and resistance to UV degradation. For medium-term outdoor applications.
If you order more than 1 as a quantity, we will leave it as a continuous length of your choosing (If you order 3, you would get a piece that is ~24"Wx36"L (Keep in mind the rolls are not a full 24"), unless you specify cuts.